Welcome to
Swedish Podge 2010
Sweden, the land of ABBA, H&M, knäckebröd and frighteningly good design.
With the groundbreaking HyperIsland and many talented agencies leading the charge it's no surprise that Digital Podge London has welcomed the Scandinvasion with open arms. So when Patrick Gardner from Perfect Fools suggested Sweden would be a great place to have another Podge lunch it was no great leap for Uncle Phil Jones to roll up his sleeves, whip out his little black book and sharpen his emails.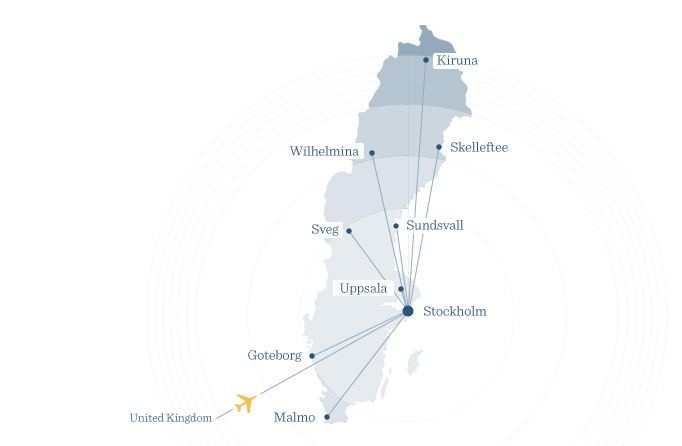 In fact, Patrick and the Fools have already organized two Podge-inspired gatherings in Stockholm, back in September 2007 and 2008. Those took shape as Digital Crayfish Parties, traditional late-summer festivities involving piles of tasty crustaceans served with copious volumes of snaps - the seductive Swedish brew that makes vodka look like a soft drink - with predictable results. Many of the Swedes reading this now were at those events, and that's why you've received an invitation to the Swedish Podge 2010 (to you new Swedes hearing about all of this for the first time: welcome!)
This year Phil and Patrick decided to team up, to combine the best of Digital Podge London with the best of the Digital Crayfish Parties, and create the Swedish Podge 2010, with a mainly crayfish menu. Swedish Podge is the ultimate summit to date between the British and Swedish digital industries, all under the guiding hand of the ever-wise Mr. Jones. An event for the ages, and certainly one not to be missed. At Swedish Podge there will be more crayfish, snaps, and creative talent in one room than has been officially cleared by the EU.
Hyper Island visit
As a very special added bonus Mattias Hansson, CEO of Sweden's famed Hyper Island school, the Harvard of digital, has kindly agreed to host Swedish Podge 2010 attendees for a tour and introduction to Hyper Island Stockholm. The session will take place from 13.00 on Thursday, September 9, 2010 - the day before Swedish Podge.
Those wishing to attend the Hyper Island visit should be sure to book their accommodations and flights accordingly, and notify Phil or Patrick in advance.
Swedish Podge 2010 price details:
For UK attendees:
IBAN SE1950000000052011137152
Swift: ESSESESS
Bank: SEB, Sergels Torg 2, Stockholm, Sweden
For Swedish attendees:
Please pay via Bankgiro.
BG number 629-5687
Price:
£100 (1100 SEK for Swedish attendees) per person covers all costs, including meal and drinks. Note: this is a non-profit misadventure.
Facts
Date:
Friday, September 10, 2010
Start time:
welcome drink at 16.00
End time:
01.00 the next day
Where:
Badholmen, a small island in the archipelago outside Stockholm. Boat transportation will be provided to/from central Stockholm.
What:
Classic Swedish crayfish party (all you can eat crayfish buffet), followed by drinks. Alternative meals available upon request.
2500
Metric tons of crayfish consumed in Sweden each year
Who's attending:
a select list of over 120 top folks from across the British and Swedish digital industries (including ad agencies that do great digital), primarily MDs and CDs.